JUUL Labs, a US-based giant of electronic cigarettes investigated in the United States for its alleged aggressive marketing practices among young people, is entering the public debate surrounding age to consume cannabis in Quebec. The company has just mandated a lobbyist to try to influence the Legault government on its 2 bill.
---
CANNABIS COULD HAVE AN IMPACT ON VAPE IN QUEBEC
---
The warrant registered in the Lobbyists Registry specifies that JUUL wishes to "explain" to elected officials and Quebec officials how this bill, which essentially aims to prohibit the purchase of cannabis by less than 21 years, "could affect the vape in Quebec».
The company refused to answer the questions of our colleagues from Lapresse on the phone but assures in an e-mailed statement that his interest in this bill "estrictly in relation to [its] purpose of working with the government to ensure that age-restricted products are not made available to young people».
The arrival of JUUL in the debate on the age of cannabis use in Quebec comes as Ottawa is consulting on a draft regulation that should allow, as of October 2019, the production and sale of cannabis electronic cigarettes. These devices, known as "vape pens", are very similar to nicotine electronic cigarettes, but could use refillable cartridges containing up to 1000 mg THC as an oil, according to the regulatory proposal.
According to the anti-smoking policy specialist David Hammond, Professor at the Chair of Applied Public Health Research at the University of Waterloo, " there is no doubt that on the fact that Juul is watching the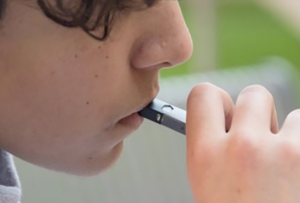 cannabis market».
«It's a multi-million dollar market. Canada is the perfect test to find a meeting place for nicotine vaping, smoking tobacco and using cannabis, whether in the form of steam or smoke.»
No government representative has met with JUUL lobbyist for the moment, assures the office of the Minister for Health Lionel Carmant. The consultations surrounding the 2 bill begin today in the National Assembly. "For now, we have had no contact with the company. They did not contact us and we have no scheduled meeting with them, zero "assured the spokesperson Maude Méthot-Faniel.
The company holds 70% of the US market for refillable cartridge electronic cigarettes and is already very active in Ottawa, where it currently has four lobbyists representing its interests.